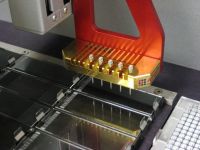 "Sugar Chips" has been one of the research interests in the lab of Dr. Chi-Huey Wong, President of Academia Sinica. The group has announced a new sugar chip method which is effective and convenient. With this new method, a single glass chip can clinically diagnoses specific diseases like cancer, bacterial, or virus infections in a very rapid manner.
Sugar Chip is really the simple term for its scientific synonym "glycan microarrays". The group proves to use the attomol-limit of detection amount of carbohyrdrate in glycan microarrays to perform quantitative analysis of protein and carbohydrate interactions. Attomol is a measurement scale at the molecular level. 1 attomol is 10
-18
mol of a molecule. Therefore one milligram of a carbohydrate can be used for such tests 10
12
times. Or, a slightest amount of antibodies in a patient's blood stream which can not be detected or confirmed by any other method to-date, can be detected by using this new sugar chip method.
"This is an accurate, robust method which is very reliable in clinical use. In very limited time, many latent cancers could be early detected by very small amounts of samples. It could also be used to find out new biomarkers of cancers, which would greatly change the current aspects of clinical staging. In addition, types of different viruses could be differentiated because of the delicate carbohydrate-protein interactions between viruses and human cells", claimed Dr. Pi-Hui Liang of Genomics Research Center, who is also one of the team members of this study.
Carbohydrates, present as free oligosaccharides or as glycoconjugates, play an important role in many biological events. Specific interactions between carbohydrates and proteins are often essential in viral and bacterial infection, the immune response, differentiation and development, and the progress of tumor cell metastasis. Therefore an understanding of interactions between carbohydrates and proteins at the molecular level would provide insights into the biological processes of living systems and help solve many biomedical problems.
Carbohydrates can be envisioned as the lego toys. It has building blocks with multiple points of attachment, leading to highly branched and stereochemically-rich structures. It is difficult to study because the connecting points are not as sturdy as the legos though. In fact, the binding force is considered weak compared to the binding force of antigen and antibody. The affinities, i.e., the force of attraction between molecules, of the latter can be 103–109 greater. Therefore, it is very difficult to synthesize an enough amount of carbohydrates for lab analysis. Traditionally it may take one day to measure one carbohydrate–protein interaction using compounds in microgram to milligram amounts.
The sugar chip method reported by the group measured carbohydrate-protein interactions on surface and in solution quantitatively. They have developed a sensitive, high throughput, and convenient technology to simultaneously determine a wide variety of parameters in a single experiment using only attomol amounts of materials.
The work reported by Wong and Dr. Pi-Hui Liang of Genomics Research Center was published in this issue of the premier international journal-Journal of the American Chemical Society (2007, 129, 11177-11184).