Glycoproteins play important roles in all kinds of biological events. Enzymes that were anticipated in modulation of N-glycosylation processes are regarded as a potential therapeutic target because of the key role they play in glycosylation processes. But some are undruggable because they belong to families of related enzymes that share the very similar active sites, and targeting them can lead to severe side effects.
Over a decade of research has shown that Human Golgi α-mannosidase II (α-hGMII) inhibitors can help control cancer growth; however, when tested in clinical trials some had side effects and limited efficacy, halting further clinical development.
A research team led by Dr. Wei-Chieh Cheng at the Genomics Research Institute, have reported a newly discovered α-GMII inhibitor, able to not only increase the enzyme selectivity but also show similar anti-HCC potencies as the FDA approved drug sorafenib, indicating that its unwanted inhibition against lysosomal mannosidase (α-hLM) causing the side effect of the accumulation of oligomannoses in lysosome can be amended.
"We found that the indolizidine alkaloid swainsonine (sw) is a potent but poorly selective α-GMII inhibitor," explained research lead Dr. Cheng. "If we can find a way to improve the selectivity of inhibitors against α-GMII - which could reduce severe side effects - then we might be able to find a way of treating some deseases."
In previous work, Dr. Cheng' team identified pyrrolidine AN9 incorporating the 2R,3R,4S,5R configuration pattern as a potential α-hGMII-inhibiting monocyclic scaffold, bearing an aminomethyl moiety at the C2 position could be well-suited to substituent diversity exploration.
Their research idea is inspired by natural prodcuts and they merged two key structural elements: pyrrolidine-based alkaloid AN9 and bicyclic alkaloid swainsonine into one hybrid skeleton to generate potential candidate scaffolds, followed by structural diversity via a combinatorial chemistry approach called "Natural product-inspired combinatorial chemistry" (NPICC) to rapidly prepare this indolizidine alkaloid-based molecular library (about 400 members).
This unique natural product-like library, which has not been explored or prepared in current reported chemical space coverage, is described as " molecular arsenal " by Wei-An Chen, who is the first author and the core team member. "It is most likely that a useful tool to allow us to challenge this enzyme selectivity issue," he said.
Toward α-hGMII and α-hLM, researchers screened this unique library to identify a hit possessing proper enzyme selectivity. Further structural modifications were guided by computational analysis and docking studies to efficiently create the advanced α-hGMII inhibitors.
"We successfully developed a new class of α-hGMII inhibitor, with nanomolar potency against α-hGMII but little activity against α-hLM," Dr. Cheng explained. "The advanced α-hGMII inhibitor with 106-fold selectivity over α-hLM."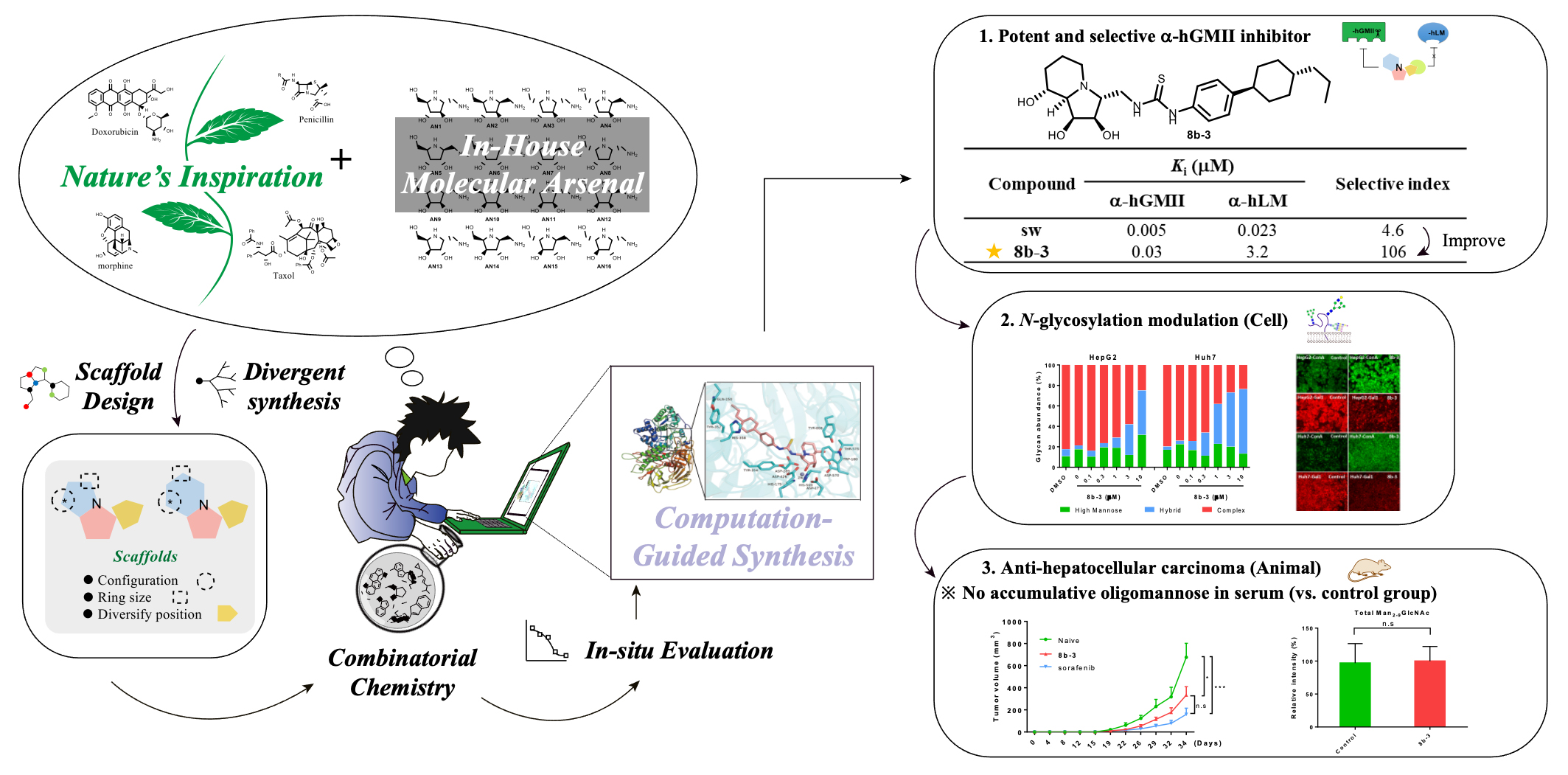 The natural product-inspired discovery of new selective α-hGMII inhibitors.
Through inhibition and selectivity study, the team resulted in that a compound named as ACK900, which is not only an effective α-hGMII inhibitor but also a selective inhibitor, which is worthy of further biochemistry experiments for anticancer drug discovery.
The in-vivo anticancer study of ACK900 elucidate its potential benefits in the treatment of liver cancer. There are no toxic side-effects of ACK900 toward Human Primary Hepatocyte (HPH) were observed, and no abnormal storage of oligomannoses was detected in serum compared with normal controls.
To further test these findings, the research team tested this compound in animal models to evaluate its safety and efficacy. The preliminary results showed ACK900 has similar anti-HCC potencies as the FDA approved drug sorafenib, and it is worthy of future systematic studies toward HCC or other tumors as well as immunomodulatory studies.
Dr. Cheng hopes that NPICC system could be a compelling technology to screen for functional binders and discover drug candidates and targets. He said, "Natural products as valuable sources of new drugs, but some limitations such as material sources, amounts, or their side effects hamper their drug development. Our synthetic chemistry strategy for efficiently developing selective inhibitors, which are inspired originally from natural products, should be readily applicable to other targets or sugar processing enzymes. Additional studies are ongoing, and the results will be reported in due course."
This research work was successfully completed by efforts from multiple GRC labs, including labs of Drs. Wei-Chieh Cheng, Chia-Ning Shen, Ting-Jen Rachel Cheng, Ying-Ta Wu, Jung-Lee Lin, Tsui-Ling Hsu. The research results are published in Chemical Science, the flagship journal of The Royal Society of Chemistry and this article is recommended by committee as "2022 Chemical Science HOT Article Collection".
The paper titled "Harnessing Natural-Product-Inspired Combinatorial Chemistry and Computation-Guided Synthesis to Develop N-Glycan Modulators as Anticancer Agents" can be read online at: https://pubs.rsc.org/en/content/articlelanding/2022/sc/d1sc05894k