Cancer has been a major threat to human health and the number one cause of death. In addition, the healthcare spending in cancer has been the largest among all diseases. It has been a challenge to develop early diagnosis and effective therapy or cure for cancer.
Over the years, scientists have been looking for unique protein markers on cancer cells for development of cancer vaccine without any major breakthrough. Other types of molecules such as carbohydrates have become alternatives and many cancer-associated carbohydrates have been discovered recently that can be used as targets for drug discovery. However, carbohydrates are not immunogenic and must be conjugated to a carrier protein to elicit immune responses. Among the cancer-associated carbohydrates, the globo-series glycans have been used for development of cancer vaccines.
After immunization, the oligosaccharide-conjugate vaccine is processed by dendritic cells (DCs), a type of antigen-presenting cells (APCs) which play a crucial role in eliciting effective immune responses. The mechanism of presentation of peptides derived from protein antigens by DCs has been well studied. However, how oligosaccharide antigens are processed and presented by DCs remains elusive. Though polysaccharides have been successfully used as immunogens for development of vaccines against bacterial infection, there are no oligosaccharide-based vaccines approved to date, partly due to the poor understanding of their processing and presentation by APCs.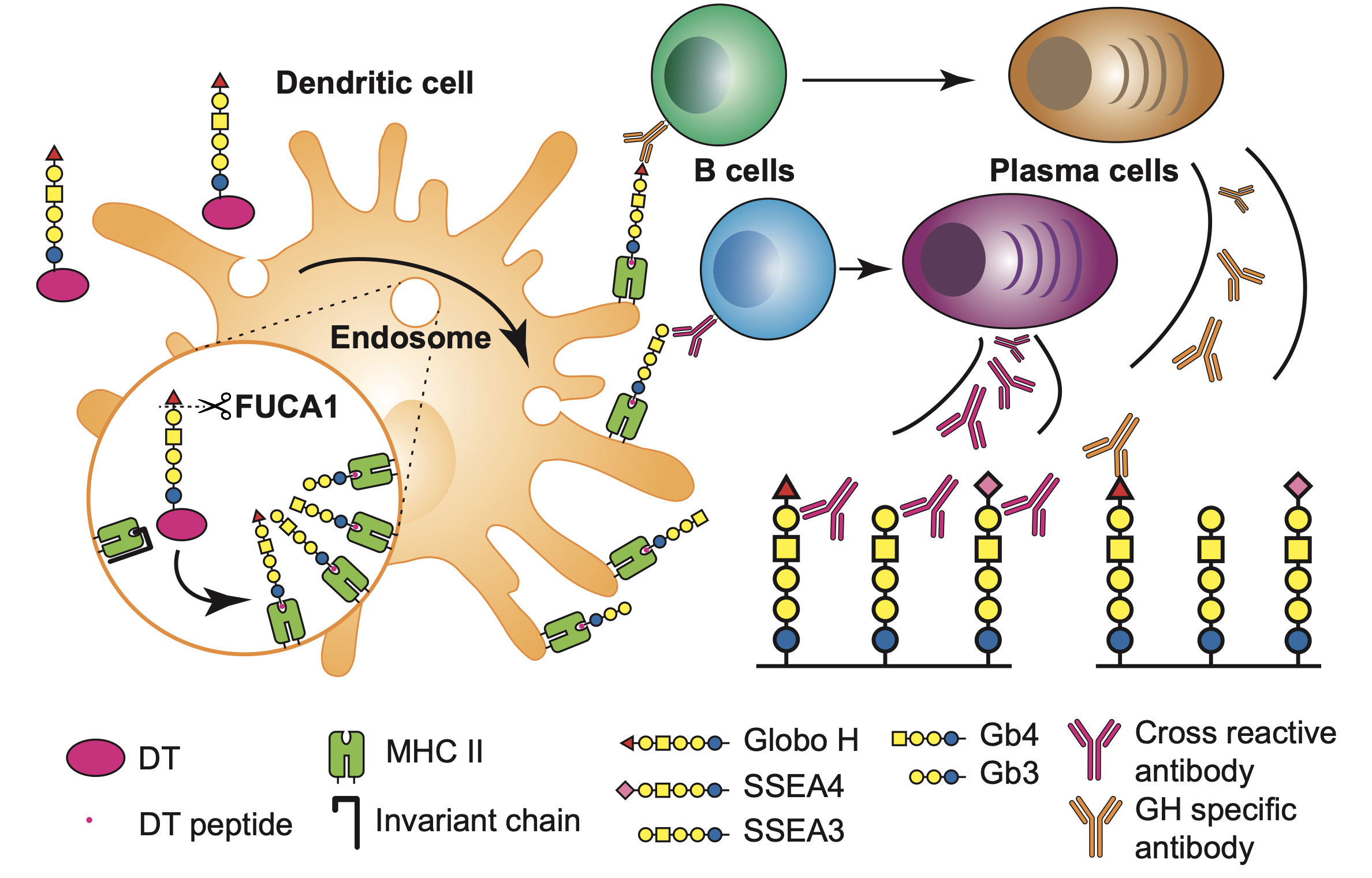 Figure 1. GH-DT was processed by FUCA1 in the early endosome of DCs to generate GH and SSEA3 glycans for presentation to elicit immune responses. The antibody induced from GH-glycan presentation recognizes GH and the antibody induced from SSEA3-glycan recognizes SSEA3, and cross-reacted against GH and SSEA4 as both contain the SSEA3-glycan epitope.
Globo-series glycosphingolipids (GSLs), including globo-H (GH), SSEA3, and SSEA4, are epitopes on embryonic stem cells. They generally disappear after differentiation of embryonic stem cells, but appear again on several types of cancers. Their expression correlates with tumor metastasis and progression. The oligosaccharide moieties of these globo-series GSLs are the targets for development of anti-cancer immunotherapy and vaccines. The oligosaccharide moiety of GH conjugated with diphtheria toxin (DT), GH-DT, has been developed as a cancer vaccine. Interestingly, the GH-DT vaccine elicited antibody responses against the oligosaccharides of all three globo-series GSLs, while SSEA4-DT vaccine induced antibodies against SSEA4 glycan only.
To understand the specificity and the origin of cross-reactivity of the antibodies elicited by the GH-DT vaccine, the research teams, led by Distinguished Research Fellow Dr. Chi-Huey Wong and Distinguished Research Fellow Dr. Kuo-I Lin at Genomics Research Center, showed that GH is first processed by fucosidase 1 in the early endosome of DCs, which generates the common glycan antigen of the globo-series GSLs, i.e. the SSEA3 glycan. The processed SSEA3 glycan is then presented along with GH on the cell surface of DCs through MHC class II presentation pathway. One monoclonal antibody cross-reacted to all the three kinds of globo-series glycans is isolated from GH-DT immunized mice by using single B cell technology. The identification of cross-reactive monoclonal antibody against globo-series GSLs implies the presentation of SSEA3 by DCs. This work represents the first study of processing and presentation of an oligosaccharide-conjugate vaccine by APCs, and is expected to facilitate the design and development of oligosaccharide-based vaccines.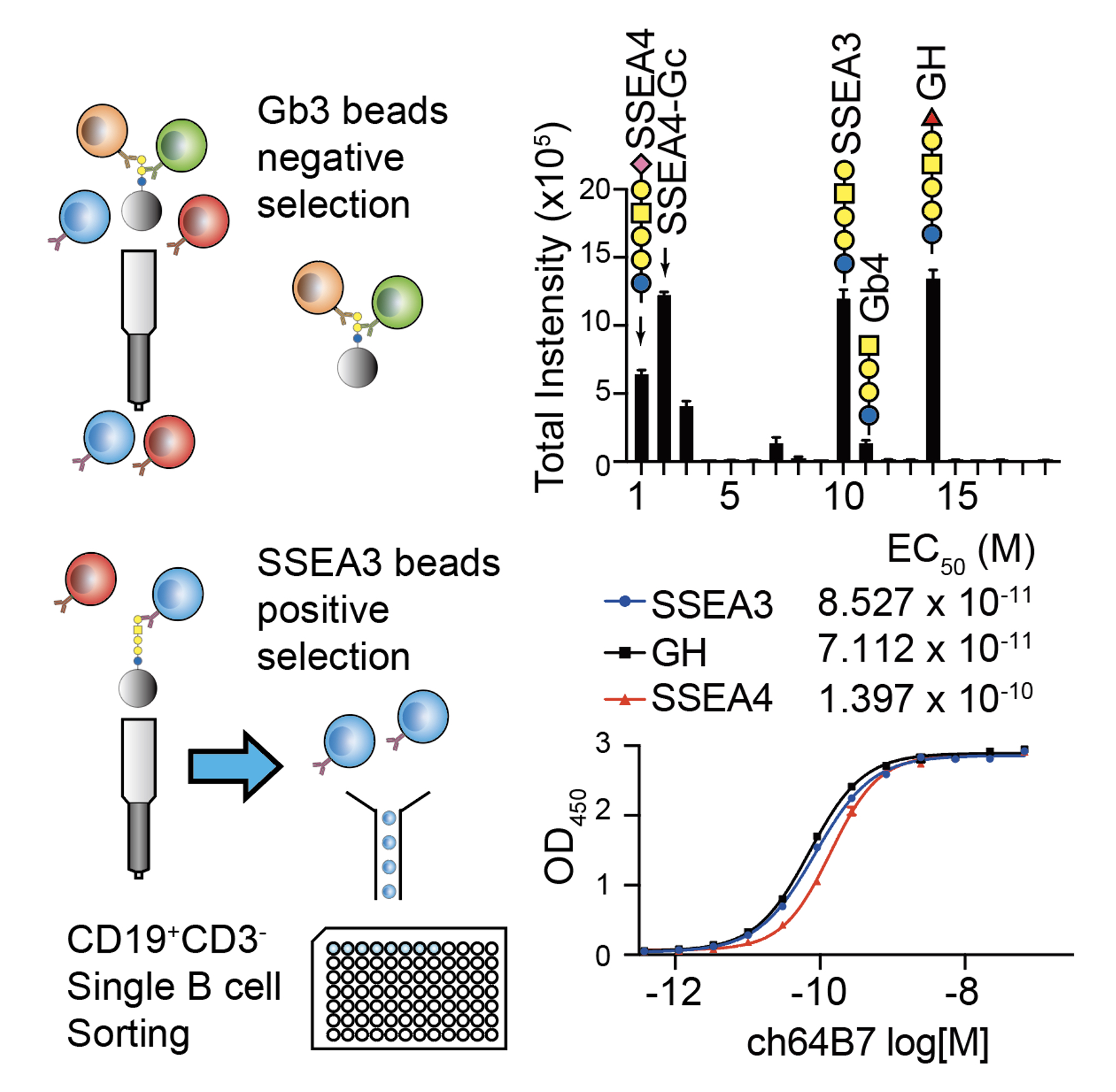 Figure 2. SSEA3 recognizing B cells from GH-DT immunized mice were isolated by using SSEA3 coated beads. Binding specificity of an isolated monoclonal antibody ch64B7 was analyzed using a globo-series glycan array. Binding avidity of ch64B7 to SSEA3, GH, and SSEA4 glycans was analyzed by ELISA.
A full study "Mechanism of Antigen Presentation and Specificity of Antibody Cross-Reactivity Elicited by an Oligosaccharide-Conjugate Cancer Vaccine" was published in Journal of the American Chemical Society, in which Dr. Szu-Wen Wang, a former Ph.D. student and post-doctoral fellow at GRC, is the first author. This article can be read online at: https://pubs.acs.org/doi/10.1021/jacs.3c02003