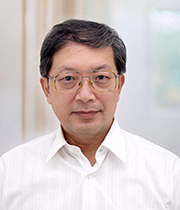 研究技師
---
sshanmao

EDUCATION AND POSITIONS HELD:
B.S. National Tsing Hua University, Tsin-chu, Taiwan, ROC, 1978
Ph. D. The Johns Hopkins University, Baltimore, MD, 1987
Postdoctoral Fellow, MASSACHUSETTS INSTITUTE OF TECHNOLOGY, Cambridge, MA, 1987-1990
Senior Research Fellow, MERCK & CO., INC., West Point, PA, 1990-2006
Senior Research Specialist, Genomics Research Center, Academia Sinica, 2007-2021
MEMBERSHIPS:
American Chemical Society
American Association for the Advancement of Science
American Society for Biochemistry and Molecular Biology
EXPERTISE / SPECIALTY:
The combined experience in both academic and industrial provides me the foundation for both basic research and drug discovery and development. I have extensive learning in biochemistry, enzymology, natural product biosynthesis during my academic years. My current works at Academia Sinica are in two parts: helping technology transfer of Academia Sinica research discoveries and coordinating the operation and collaboration of high through-put screening.
在學術界以及工業界的雙重經驗讓我在基礎研究及新藥開發方面都有良好的根基,在學術界從事研究期間,我大量的學習到有關生物化學、酵素化學及天然物合成方面的知識,目前我在中央研究院的工作分成兩個部份:協助中研院研究成果技術移轉,以及協調高速藥物篩選計劃的運作及合作研究。
SELECTED PUBLICATIONS:
Hsu, H-J., Tsai, K-C., Sun, Y-K., Chang, H-J., Huang, Y-J., Yu, H-M., Lin, C-H., Mao, S-S., and Yang, A-S, 2008, "Factor Xa Active Site Substrate Specificity with Substrate Phage Display and Computional Molecular Modeling", JOURNAL OF BIOLOGICAL CHEMISTRY, 283, 12343-12353. (SCIE)